Extracoporeal Shockwave Therapy in Medway
---
An innovative and modern option for treatment, shockwave therapy is a highly effective and proved method in rehabilitation and orthopaedic medicine.
The 'waves' refer to mechanical pressure that pulsates and expands throughout the body as a 'shock' is administered. This has a number of healing qualities as the energy is conducted from the administered point to the area of pain within the body where it has the capacity to heal.
Shockwave Therapy was initially used in this country to remove kidney stones without having to resort to surgery. This treatment, which is now used to treat 98% of all kidney stones, is called lithotripsy and used directed shockwaves to dissolve the kidney stones.
In the early 1990's shockwave treatment began to be used to treat tendon related pain and is now used widely by orthopaedic and rehabilitation practitioners as there is much proof and research to support the long term healing properties of the treatment.
In many cases, shockwave therapy can break up deposits within an injured tendon that have built up over time, leading to long term healing.
Shockwave Therapy at City Way Health Clinic
---
Our team of Osteopaths, administer this treatment at City Way Health Clinic, Rochester and Rainham. They are highly experienced Osteopaths who are qualified and registered to administer shockwave therapy for tendon related injuries.
Which Conditions can be treated?
---
Lower back pain
Achilles tendon
Tendonitis
Plantar Fasciitis
Shin pain: tibialis anterior syndrome
Tennis Elbow
Golf Elbow
Knee Pain
Hip Pain
Shoulder pain
Osgood Schlatter Disease (OSD)
Chronic Neck and Back Pain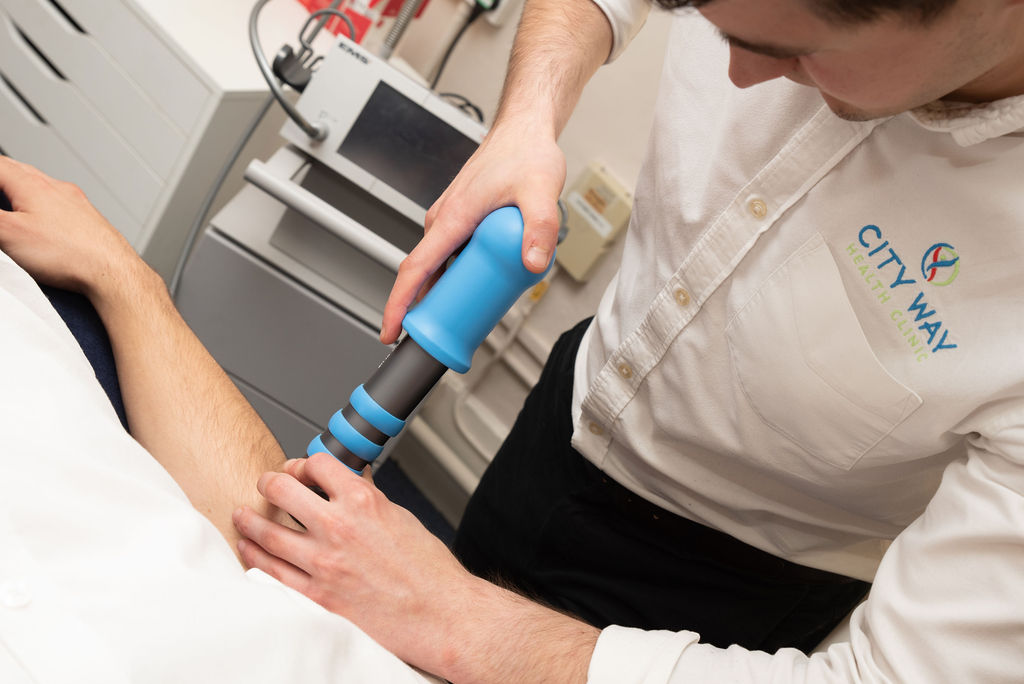 If you would like to discuss Shockwave Therapy with one of our team, please contact us directly.